As responsible Papillon Breeders we strive to keep the wonderful Papillon's traits in every Papillon Pup we produce. Papillons are wonderful spirited toy dogs, their devotion as a companion are second to none. We at Papillons of Riesa are one of the very few
Papillon breeders who's Kennel has achieved Permanent Registration status from the Canadian Kennel Club. Our Papillons have been carefully selected for their own special traits, personalities and conformation. All of our Breeding Papillons have been DNA tested and are CLEAR for PRA 1 and NAD. Each Papillon dog has several health screenings before they are included in our breeding program. We believe in the total Papillon one who is a joy to spend your time with.
| | |
| --- | --- |
| | We are dedicated Papillon breeders and do not mass produce pups just for the sake of making a quick profit. Toy dogs are the easiest breeds of dogs for puppy mills and unethical breeders to take advantage of . Therefore most Papillon breeders are very careful on the placement of their pups. Every Papillon Pup we produce is raised in our home and socialized with every day to day experience we can expose them to. It is very important to us as Papillon breeders that each pup receive individual attention and affection. It is just as important to us thatour Papillons go to homes where they will be raised and cared for as a member of the household. |
| We are one of the few Papillon breeders that offer a life time replacement guarantee against serious genetic health issues. Our Papillons may be Champions or Obedience stars in the ring but first and foremost they are our companions and members of our family. For more information about Papillon Breeders of Riesa visit our "About Us" page Papillon Breeders of Riesa are members of good standing with the CKC and the Papillon Club of Canada. | |
"He is your friend, your partner, your defender, your dog. You are his life, his love, his leader. He will be yours, faithful and true, to the last beat of his heart. You owe it to him to be worthy of such devotion."
Author Unknown
---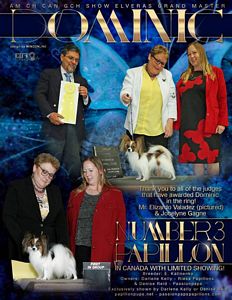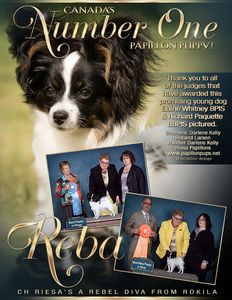 Come in and visit our wonderful toy dogs and review our Papillon Breeders information page.
If you are in the process of trying to locate a Papillon dog or pup, or are just looking for information on this wonderful breed feel free to e-mail or call with your questions.
---